Exploring the Lost Planet #1
As the name of the editorial implies, Lost Planet is located in downtown Manhattan and it can be hard to spot it. It is tucked away on Spring Street, a block away from a Nike store, flower shop, cupcake stand, Gourmet Garage, and countless buildings; not exactly a place that's going to catch your eye at first glance.
I am coming from New Jersey, so I take a train from the Newark Penn Station called the PATH to the World Trade Center. From there, I walk to Lost Planet.
My first days were a little odd for me. The way that the editorial works is that the executive producer, Krystn Wagenberg, is in charge of obtaining jobs for the editorial to work on. She was on vacation so there weren't as many clients to assist like there usually are.
I learned the ropes of everything I am supposed to do: cleaning, ordering food and supplies, and organizing paperwork. But as the week on, I shadowed professional editors and met staff who have connections to the University of Michigan.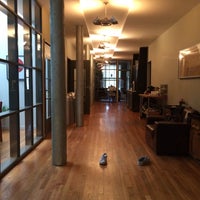 Charlie is one of the editors there and he went to college with my film professor. There is also an intern who is going to be a senior next year at Michigan.
Things began to pick up the following week but it was great to get a feel for everything. I was drawn to the culture of the company and it hasn't disappointed.