I'm a few weeks into my internship experience this summer, and some of the biggest challenges I've faced have actually been outside of my internship. Recently, my laptop stopped working (read: why this second blog post is so far from my first) and I actually ended up having to replace it.
Being 13 hours from home, the last thing I wanted to happen was to have something as important as my laptop stop working. A lot of the work I do for my internship and school is done online, so I was fairly stressed when it happened (and probably slightly overreacting, to truly embody Michael Scott.) That being said, I'd never been in a situation where something so important had gone wrong during an internship, so despite all of the fun I was having and how much I was enjoying my internship, there were like 3-4 days where I was #panicked.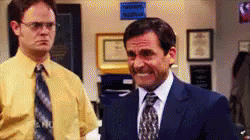 At the time I didn't want to say anything to anyone at work because I didn't want to seem like I was complaining (especially because I was still fairly new.) But at the end of the day, I decided the best course of action was to just mention to my boss that I was having some technical difficulties and that I might have to work more in the office rather than from home, just to make sure he was aware in case I needed to work from home for anything. It actually ended up not being a huge deal at all, and he let me borrow my work laptop until I had the opportunity to replace my old one. We have about ten million laptops and computers lying around the office, so it probably shouldn't have been that surprising, but at the moment it meant the world.
The moral of this blog post is to not be afraid to ask for help (as an intern or in general), especially if you're in a new city far from home. What seemed like the end of the world to me was barely a hiccup for the people I was working with, and they were more than happy to help accommodate what I needed in order to help me get back to work relaxed and stress-free.